CONQuest Festival 2022 Guests – Get to Know Them Better
June 11, 2022
CONQuest Festival, a 2-day event on July 23-24, will have various guests locally and internationally.
Here's the full list of all guests.
#CQ2022
Gamers, otakus, and geeks, CONQuest Festival 2022 is upon us! Powered and organized by AcadArena, CONQuest Festival is a celebration of gaming and pop culture in the Philippines which was founded in 2017 and has been in operation ever since. For CONQuest Festival 2022, it will be held at Manila's SMX Convention Center, which has been a popular venue for many high profile conventions in the Philippines.
For CONQuest Festival 2022, AcadArena has brought up a star studded list of guests coming from all walks of gaming, media, and entertainment. From high profile content creators, streamers, pro gamers, artists, media personalities, voice actors, and even Vtubers, CONQuest Festival 2022's line-up of guests will surely make it worth your while.
Rundown of CONQuest Festival 2022 Guests
To make it easier for potential CONQuest Festival 2022 guests and patrons to identify who they will be seeing, the real picture of said people will be used. For some guests and figures who identify with their artwork (Vtubers and Artists), artwork associated with them will be used instead. (Basically the profile pictures they use on their platforms)
Kyedae (Kyedae Shymko)
Kyedae is a Canadian Twitch streamer and content creator currently under contract with 100 Thieves. Her main game is Valorant, a game that she regularly streams and is one of the fastest growing personalities in Riot Games' team based first person shooter. She made headlines in Philippines gaming and media outlets when she announced during one of her streams that she was arriving in the country in order to be part of a certain gaming event, which happens to be CONQuest Festival 2022. She is currently dating TenZ (Tyson Ngo), a Valorant pro player and Twitch streamer for Sentinels.
LilyPichu (Lily Ki)
Variety and Just Chatting streamer, Voice Actor (Sayu – Genshin Impact, Muni Ohnaruto – D4DJ)
Many League of Legends fans remember her for doing Annie fandubs
Twitch: https://www.twitch.tv/lilypichu
LilyPichu of OfflineTV is a "Variety" and "Just Chatting" streamer for Twitch where she mainly streams an assortment of games and "just talking" genre. In Youtube, she mainly produces art and music videos, with piano being her specialty and an instrument she started to play at just 5 years old. She also posts Vlogs. Aside from online content, Lily has also done voicework for English dubs of video games and anime, with her notable current role as Genshin Impact's Sayu, the Anemo Shuumatsuban ninja. Her notable anime role is the English dub voice of Muni Ohnaruto of the D4DJ franchise. Lily is of American and Korean decent.
Michael Reeves ("Mykull")
Content Creator for OfflineTV, usually involving "Comedy-Tech" contraptions
Inventions: The Robot that Shines a Laser in your Eye, The Screaming Roomba and many more
Creator Clash boxing winner (has a TKO win over his opponent)
Michael Reeves is a member of OfflineTV, the same org that also houses his current girlfriend Lilypichu. Michael's content usually revolves around "Comedy-Tech" videos, with his very first tech video called "The Robot that Shines a Laser in your Eye" becoming a viral hit upon its release. His other notable video is the "Screaming Roomba" which has a vacuum that would scream profanities (using Lilypichu's voice) whenever it bumped into walls and other objects. Reeves, most recent activity as of date is being part of "Creator Clash", a charity boxing event hosted by iDubbbz where he boxed fellow content creator Graham Stephan. Reeves won the bout via TKO in the 2nd out of 5 rounds. He is sometimes called "Mykull" by some viewers due to how LilyPichu pronounces "Michael". Reeves is born to an American father and a Filipino mother.
V33Wise Duo – OhMyV33nus (Jonmar Villaluna) & Wise (James Del Rosario)
MLBB pro players for Blacklist International and Team SIBOL. V33nus is the Support, Wise is the Jungler.
Back-to-Back MPL Champions (Season 7 and Season 8)
International achievements: M3 2021 World Champions, Hanoi SEA Games MLBB Gold Medalists
Are only available at Day 1 of CONQuest Festival 2022
They are the iconic Jungle (Wise) and Support (V33nus) shotcalling duo of Blacklist International's Mobile Legends: Bang Bang squad. TheV33Wise duo has become a legendary pair within the MLBB scene for their ability to lead Blacklist International into either extremely dominant wins or wins that came after overwhelming odds, which has led them and Blacklist International to back-to-back MPL championship wins from previous seasons, as well as having an impressive run during 2021's M3 World Championship where they led their team into a World Championship win, establishing the Philippines as the powerhouse region of MLBB Esports. OhMyV33nus has also heavily popularized the support hero Estes into their game winning strategies to a point that said hero has become a notoriously important ban against the V33Wise Duo. Their recent achievement was winning the Gold Medal during the Hanoi SEA GAMES MLBB division where they led SIBOL's MLBB Squad which have two untested rookies and fellow Blacklist player Hadji. As of this posting, the V33Wise duo has not confirmed their return to MLBB's MPL Season, as they are still currently on hiatus in order to focus on their lives outside MLBB.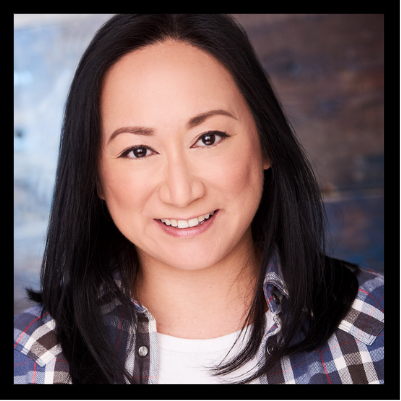 Anne Yatco
Voice Actress under VoxUSA
Raiden Shogun/Raiden Ei's English dub VA (and also the voice of Raiden Shogun's twin sister Makoto)
Has more than 20 years of Voice Acting
She also plays Genshin Impact quite a lot, and would occasionally share her pulls and reactions.
Twitter: https://twitter.com/annejyatco
Website: https://www.anneyatco.com/
Anne Yatco is an American-Filipino voice actress who is currently known as the Raiden Shogun's English DUB VA. Her other notable role is Nobara Kugisaki's voice in Jujutsu Kasen's English dub. Anne Yatco's voice acting career spans more than 20 years, with her first listed role being Prince of Tennis' Kachiro Kato all the way back from 2001-2005. Anne Yatco also has a history behind theater acting, having performed in many theaters around the world from the Kennedy Center, Edinburgh Fringe Festival and Zhongguancun International Musical Festival. She is a Midwestern American-Filipino, hailing from Morris, Illinois. She grew up with a Filipino family and spent a lot of time in Karaoke at an early age, which helped develop the talents that she is using today.
Ratana
Voice Actress under VoxUSA.
Yae Miko's English Dub VA. Before Yae Miko, she was known for voicing Leonie from Fire Emblem: Three Houses
Is also a motivational business speaker and coach, helping clients of different ranges develop their brand through communication and storytelling
Website: http://ratana.net/
Ratana is a American-Filipino voice actress who voices fellow Inazuman Yae Miko (and close friend of Raiden Shogun (voiced by Anne Yatco). Her other notable voice acting role is Leonie from Fire Emblem: Three Houses. Aside from voice acting, she is also a business coach where she helps her clients, ranging from students, artists, professionals, and business owners develop their brand through storytelling and communication. Ratana is of Visayan decent.
Christian Banas
Thoma's English Dub VA
Has 5 years and counting of Voice Acting experience
Is also a Dubbing Producer
Filipino-American Voice Actor Christian Banas is the voice behind Genshin Impact's Thoma, the housekeeper of the Kamisato Clan. He is noted for being able to channel Thoma's inner bargaining power during Inazuma's quest arc where Thoma was making deals with the people in Ritou. Aside from voice acting, he is also a dubbing producer.
Tuonto (Jake Tuonto)
Youtube content creator usually with Genshin Impact videos
Does this thing where he makes a pull/roll if a certain action or condition is met ("If I laugh, I Roll")
Youtube: https://www.youtube.com/c/Tuonto
Tuonto is a Genshin Impact Streamer who usually posts discussions and reactions to activities happening within the Genshin sphere and community. His Genshin Youtube content usually revolves around him doing a Wish (Pull/Roll) whenever a certain condition happens (EG: "If I Laugh I Roll") as well as interacting with viewers where they force him to do something under his conditions ("If I Get Caught, I Roll"). As of this posting, Tuonto has 1.05 Million Youtube subscribers.
Bao
Independent Vtuber
Speaks three languages: English, Vietnamese (her nationality), and Japanese
Also produces music which can be found on her Patreon
Twitch: https://www.twitch.tv/baoo
Bao is an independent English speaking Vietnamese Vtuber who waddles and swims across doing either Genshin Impact streams and music content. She portrays herself as a long lived humanoid whale who is the last of her kind and is looking for someone to listen to her voice. She currently streams exclusively on Twitch.
AsianGuyStream (ATSU)
United Kingdom (UK) based Twitch Streamer
Streams both Genshin Impact and Valorant
Sometimes uses Genshin Impact character Zhongli in some form or capacity in his profile pictures
AsianGuyStream, or ATSU, is a Twitch streamer of currently 312,000 Followers who streams either Genshin Impact or Valorant for his gaming streams. He hails from the United Kingdom (UK) and asides from Genshin and Valorant, he makes content about anime and k-pop, two things that he likes according to his Twitch profile.
NekkoPii
Streamer and Cosplayer
Wife of ATSU (AsianGuyStream)
Mostly streams Genshin Impact
Was a Vtuber at some point
NekkoPii is a UK based streamer and cosplayer, mostly streaming Genshin Impact. She was also a Vtuber before she did an official face reveal, but will still occasionally stream as her Vtuber model during certain broadcasts. She is currenly married to AsianGuyStream (Atsu) who is also part of CONQuest Festival 2022.
Jiconyo (Jico Umali)
Viral Content creator known for "Conyo" related jokes
Also works for PGAG as a Senior Video Content Analyst
Also known for screaming "SHEEEEEEEEESH" to the point that AcadArena (CONQuest's organizers) has officially given him the title "the SHEEESH Master"
Facebook: https://www.facebook.com/myPGAG
Jico Umali, better known as Jiconyo, has become a viral sensation among the Filipino people for his comedic conyo sketches involving different situations such as selling soya bean curd to people, being a jeepney driver with credit cards instead of cash, or using an electric fan to heat up the charcoal for his Pinoy pork barbeques. At just 24 years old, he is one of the fastest growing internet entertainers in the Philippines. His brand of comedy stems from him being inspired by TikTokers (TikTok users) and putting his own style and flair to it.
Maggiekarp
Variety Streamer for OASIS Gaming
Streams the following games: Valorant, DOTA2, occasionally Genshin Impact.
Recently won AMPLFY's Friendly Fire Valorant Tournament as the Team Captain, leading a team with SuperMJ, C Games, Overdose Gaming, and Kaydiebaby
Maggiekarp is a streamer under OASIS Gaming who streams a variety of games, but as of her current broadcasts, has leaned towards Valorant and DOTA2. Her main gaming platform is PC, and shooter games (Either First Person or Third Person) are her mainstays.
BTMC (Edward)
Top 100 osu! player (#61 globally) (#13 in US) and streamer, but will occasionally stream other games
Is of Chinese-American decent
Has a hit accuracy of 98.91% according to his osu! profile
Twitch: https://www.twitch.tv/btmc
BTMC is a 21 year old Full time Twitch streamer who is one of the top 100 ranked Osu! players in the world. currently #61 in global standings, and #13 in US. After graduating high school, he took streaming full time as his current career choice and has been streaming full time since 2018.
Een Mercado
One of the popular streamers in the Philippines, Een Mercado, does a variety of gaming content ranging from a variety of PC and Mobile Games while doing other forms of entertainment such as cosplay and events hosting. She is also currently associated with YGG (Yield Guild Games), a play-to-earn gaming guild.
GLOCO (Gian Lois Conception)
Founder of the Peenoise Gaming Realm
aside from content creation, Fishing is his favorite hobby
often cited as one of the "OG" Pinoy gaming youtubers
50/50, might be wearing his Teemo hat or a Fishing hat instead
GLOCO (GLOCOGaming) is a Filipino Vlogger, youtuber, fisherman, and a former licensed nurse. His online handle "GLOCO" comes from his real name's first few initials – Gian Lois Conception. Many also know GLOCO for his fandubs of anime and movies, most notably his work of a 6-part fandub/parody of Train to Busan, where he did all the fandubbed dialogue himself. Aside from making gaming related content, GLOCO is also a fisherman and has uploaded Vlogs of him doing some catches in various places. He also makes commentary videos talking about gaming and non-gaming affairs and situations under the video title "Rants and Opinions". He cites Pewdiepie as his main inspiration for being a Youtuber and Pewds himself has given GLOCO a shoutout.
Kitz Cua
Streamer and Cosplayer from the Philippines
Content creator under Galaxy Racer
Loves Retro Anime and likes League of Legends (both PC and WR)
If she cosplayed Lilypichu, you might actually think it was Lily, but it was her, KITZ CUA!
Twitch: https://www.twitch.tv/kitzcua
Kitz Cua is a variety streamer and cosplayer who mostly streams League of Legends (both PC and Wild Rift) as well as making cosplay of various characters. She also has her Patreon where she makes monthly Cosplay Photosets for her supporters (Patrons). One of her recent achievements is getting acknowledged by Lilypichu herself, whom Kitz as cited as one of her top favorite streamers and content creators.
Riku (Rikki Quiapon)
Shoutcaster for WCSPH (League of Legends Wild Rift Esports)
Voice Actress
Streamer
Although Filipino, Riku is often assigned to be part of the English Broadcast for most Esports events
Facebook: https://www.facebook.com/RikuPH
Riku (Riku PH) is a streamer, Esports commentator and shoutcaster for WCSPH. She was also a shoutcaster for the PCS (Pacific Championship Series) English broadcasts before fully focusing on Wild Rift PH Esports. Riku has also done professional voice acting, where she provided voicework for Hannah Weber (Element Hunters), Naho Takamiya (Takanoichigo), and Emily Amonde (Mobile Suit Gundam AGE).
Razzie Binx
Razzie Binx is a Filipino streamer who does a lot of comedy sketches and humorous commentary during his gaming streams. While he mostly does his full time streaming on Facebook, he also uploads Youtube content which are usually stream highlights as well as comedy sketches in the style of famous Youtubers, but in his own little way.
Liui Aquino
Filipino cosplayer famous for his Hiccup (from How to Train Your Dragon) cosplay (as seen in his display picture here)
Started cosplaying in 2011, became a viral sensation for his Hiccup cosplay in 2019
A lifelong fan of anime and video games, Liui Aquino decided to take his love of those forms of entertainment into cosplay, which has gotten him some international recognition especially with his Hiccup Horrendous Haddock III, the protagonist of the How to Train Your Dragon franchise. He has been invited into many events outside the Philippines because of his talent.
KrisRey
KrisRey is a Twitch streamer, aspiring musician, and a Business college student. Her main game is Valorant. However, KrisRey faces a hearing defect from her left ear because of microtia. Despite her hearing defect, that has not stopped her from achieving things such as reaching Immortal 2 Rank in Valorant, which the ability to hear with ears is an important aspect of the game (just like in most first person shooters).


Senz
Senz made his Vtuber debut on April 16, 2021. Senz usually does variety content with his subs. Senz also pretty active on twitter where he would say some "interesting" tweets. His streaming style is some interesting commentary while playing his games.
TriNhil
TriNhil is the co-founder of the Peenoise Realm, and works with his fellow PR colleagues GLOCO, Phil Diaz, VANILLA, and ThisIsChris 09. He usually streams GTAV-RP sessions but also engages in a variety of games as well, having streamed games such as The Harvest, Valorant, and Ni no Kuni: Wrath of the White Witch.
Kang Dupet
Streamer and Cosplayer
PH Brand Ambassador for PREDATOR Gaming
Has a cute Keqing Cosplay as seen in her display picture here
Twitch: https://www.twitch.tv/kangdupet
Kang Dupet is a freelance content creator, cosplayer, and streamer from the Philippines who uses her talents to work with different brands and organizations. Asides from streaming and cosplaying, she is also a collector of figurines as seen in her instagram posts.
SSkait (AJ Bakar)
"SSkait" is pronounced as skeight/skeyt/sk8
Filipino comic artist who usually deals with challenging day-to-day life of living in the Philippines complete with a sarcastic twist
Has been featured in The Manila Times
Facebook: https://www.facebook.com/sskaitcomics
S.S.K.A.I.T – "Siya. Sila. Kayo. Ako. Ikaw. Tayo". Those are the words associated with SSkait's (AJ Bakar's) comic work. His comics often involve stories about life, happiness, and the challenges of living everyday life in the Philippines, usually expressing the stories through sarcastic gags and light hearted jabs and jokes.
Libreng Komiks (Toto Mandayag)
The Artist behind an iconic weekly comic strip in the Philippines.
Libreng Komiks is often cited as Pinoy humor as its finest – unapologetic and relatable
Toto Mandayag, the artist behind Libreng Komiks has been producing some incredibly hilarious and relatable komics that deal with the everyday lives of Filipinos. From issues, situations, typical stereotypes and living conditions, Toto Mandayag's Libreng Komiks series is guaranteed to get people thinking and laughing at the same time.
Little Things PH
Their art and comics focus on the typical upsides and downsides of relationships
Whether your single or already taken, their comics are still worth reading
They also do drawing streams
Facebook: https://www.facebook.com/littlethingsph
Little Things offers comics that deal with the typical ins, outs, ups and downs of relationships. Their cute and colorful art style are a must-see for those who want to read comics that deal with relationships between couples and loved ones in general.
HungHang Flashbacks (Drew Borja)
Makes web comics that involve awkward stories, cheesy pickup lines, bad puns, and other forms of humor
Often draws the characters with the signature green hair and yellow eyes.
Drew Borja created HungHang Flashbacks as a means to express his real life experiences with his friends and loved ones through a readable and colorful artform, with some of his friends actually begging him to be part of his comics series. In his series HungHang Flashbacks, the 8 main characters are based from Drew Borja's inner personalities.
Aeonix
Artist and Illustrator from Quezon City, Philippines.
Uses an art style that is a combination of "anime-ish" and realistic.
Mentions that the art style of Studio Ghibli is a big inspiration to his work.
Facebook: https://www.facebook.com/eonios
Aeonix is a 21 year old artist from Quezon City, Philippines. He started drawing when he was just a child, but took the art more seriously at 17 years of age after some advice from his father. He has mentioned that his favorite backdrops are MRT Stations, marketplaces, and old buildings because those locations evoke a feeling of nostalgia for him.
Daks (Daks Rosales)
Esports Commentator for Valorant, specifically for VCT Southeast Asia
Does broadcasts in either Filipino or English language
Has also done casting for Overwatch and Starcraft 2
Ex Head coach of Philippines' Overwatch World Cup team
Twitch: https://www.twitch.tv/daksph
Daks Rosales is an Esports commentator, analyst and caster for Overwatch, Starcraft 2, and more recently Valorant. He also plays and streams the games mentioned here as well.
Mika Fabs (Mika Fabella)
League of Legends Wild Rift Esports commentator and analyst for PPGL and ICONS
Also involved in Valorant Esports
Creative Producer at ONE Esports
A Lord of the Rings and Star Wars fan
University of the Philippines (UP) Graduate
Facebook: https://www.facebook.com/mikafabs
Film Producer by day, writer and podcast producer by night. Mika Fabella describes herself as having a weird resume, being a "Jack of all trades" as she calls it. Mika Fabs has done Esports Hosting as well for events such as The Nationals (2019), Esports and Gaming Summit (ESGS) (2020), Valorant Challengers (2021), Wild Rift SEA Championships (2021), and most recently Valorant Challengers (2022). Aside from Esports, Mika Fabs is also an independent filmmaker and has made the following Indie films – Mananayaw (2014) as Co-Writer, Assistant Director, and Production Manager and Yakap (2018) as Director.
Midnight (Neil de Guzman)
Mobile Legends Bang Bang Esports caster and analyst for MPL Philippines
Ex-Analyst for NEXPlay EVOS
CONQuest's OG Video Editor
Midnight began his Esports career with MineskiTV as a shoutcaster for DOTA2. When he became a mainstay in MineskiTV, he was appearing in multiple projects with Mineski such as the broadcasting coverage for The International 2018 and The International 2019. Eventually he added Mobile Legends: Bang Bang (MLBB) to his game pool and has become a mainstay in the MLBB Esports scene for years, beginning in MPL Season 3.
Offscreen, he was also a coach for Esports teams in the Philippines, such as HappyFeet (an old and popular DOTA team at the time), Neon Esports, and Sterling Global Dragons – a team that housed both a DOTA2 and MLBB team.
Santie (Santie Magcalas)
Youngest Professional League caster for MLBB – Part of MPL's Broadcast team
WVSU Academy Arena Campus Leader
Is only 20 years old.
Was a highly competitive MLBB player who wanted to play professionally.
Santie Magcalas is the MPL's youngest caster at only 20 years of age. His arrival to be part of MPL Season 9's broadcast team was a surprise to the MLBB Esports audience, and he believed that before being part of MPL Season 9, Santie thought that he would have to wait till MPL Season 10 to be part of the team. According to an interview, Santie cited that the casters Sh1nBoo and Rob Luna as inspirations to how he would be casting.
And there you have it. That is all of the listed guests heading into CONQuest Festival 2022! Some of these guests will be part of the listed meet and greet activities, while the other guests will be involved in CONQuest's activities, in particular the esports side of things.
Save the date. CONQuest Festival will be on July 23-24, 2022 in the SMX Convention Center. We hope to see all of you there!