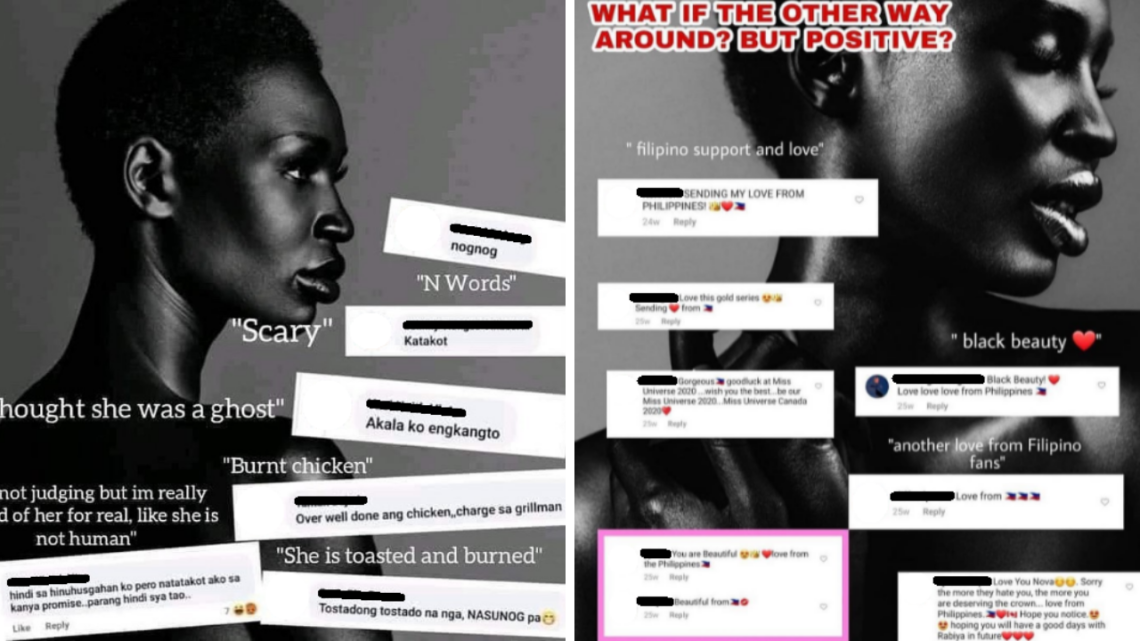 Filipinos send love to Miss Universe Canada after racist remarks
May 5, 2021
Nova Stevens, Miss Universe Canada 2020, has shared an Instagram post showing racist Filipino remarks about her skin color.
On her caption she talked about the discrimination against Blacks and Asians. She clarifies that her post is shedding light on these matters.
Nova Stevens also says that beauty comes in all forms of shades, shapes and sizes and that we all need to treat each other the same.
After the photo going viral, she clarified that not all Filipinos are racist and that in every group, there are few bad apples.
She also posted another Instagram post revealing the positive messages she got from Filipinos ending everything on a positive note.
Yesterday Nova Stevens, Miss Universe Canada 2020 has shared a photo on her Instagram regarding racist remarks she got from Filipinos.
Filipino racist comments
"Here we go again. I've been receiving this picture in my inbox a lot lately." the caption reads on her Instagram.
On the picture reads a few racist comments about her in another language with a translation of it in English. One noticeable thing about the negative comments however, is that all of it are in Filipino.
The racist comments mostly highlighted her dark skin tone.
Nova Stevens continues her caption to shed light on the 'Black lives matter' and 'Asians are human' campaign and talked about how she was disappointed on some pageant fans from other countries.
"With all that has been going on in the world 'black lives matter' 'Asians are human' you would think this would bring us together. Instead, looks like some people are still stuck in their ignorant and racist ideologies. I'm really disappointed with some Pagaent fans from certain countries. Your hate takes away the fun and enjoyment from this once in a lifetime experience. Is it really that difficult to spread love instead of hate? No one is saying you HAVE to support all contestants, all we're saying is that you support your delegate without bringing others down. You don't need to dim someone's light in order for you to shine.

The world is evolving, people are realizing that beauty is not exclusive to one specific group of people. The definition of beauty applies to all; because beauty can be seen in different shapes, shades and sizes. Please see the beauty that is in this world. We don't need to look the same, we just need to treat eachother the same."

Nova Stevens
After the Instagram post being viral, she has gotten more messages as well as positive comments and kind words. She then edits her post clarifying that she is not generalizing all Filipinos and that the reason she shared these comments was because these comments were constantly being sent to her.
She ends her caption saying "Spread love not hate".
Hi everyone, thank you for the kind comments and messages. Please know that I am ok. This post is not a generalization, which is why I said "some". Also I was not sure of the language these comments are from until reading some of the comments. In case it's not clear. I don't think all Filipinos are racist. That would be ridiculous to say. This picture with texts was constantly being sent to me recently which is why I shared it. I'm well aware that there are multiple countries that think this way. I'm sharing this as a teaching moment so that we can make Pageants fun and enjoyable for all. All the girls competing have worked hard for this moment and deserve to have the best experience. Cheer for your girls with love and respect for the other delegates because they too are deserving of the 'Miss Universe' crown. Spread love not hate❤️

Nova Stevens
Filipinos send love to Nova Stevens
A few hours ago, Nova Stevens again posted on her Instagram regarding the matter but this type she has posted positive comments from Filipinos.
She starts with saying, "Let's end things on a positive note".
She continued and apologized to her Filipino fans and clarified that her first post was not intendent to incite more hate but rather shed light on issues at hand.
She also again stated that she does not others to bash Filipinos and that not everyone is racist and that in every group, there are a few bad apples.
She ends her caption saying to root for all the girls for working hard and sending her love to everyone.
The Miss Universe pageant will be at Seminole Hard Rock Hotel & Casino in Hollywood, Florida on May 16 and Nova Stevens will be representing her country of Canada while Rabiya Mateo will be representing the Philippines.