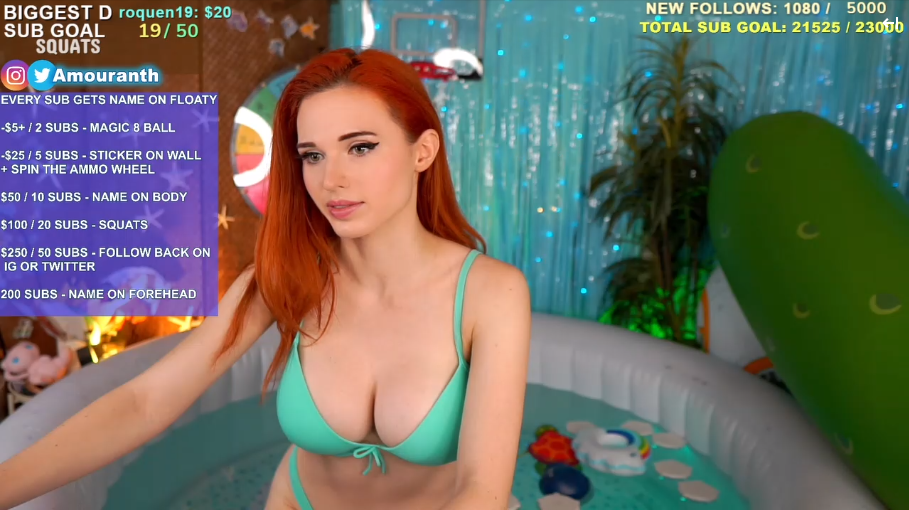 Hot Tub streamer Amouranth is demonetized by Twitch
May 20, 2021
Hot Tub streamer Amouranth went to Twitter to call out Twitch for indefinitely suspending her ad revenue without reaching out to her.
Amouranth is one of the top female Twitch streamers who has been widely criticized for their sexual 'hot tub streams'.
Amouranth is still able to stream as well as gain income with her subscription and donations.
Top female Twitch streamer Kaitlyn "Amouranth" Siragusa who has made a name for herself with 'hot tub streams' has been recently demonetized by Twitch.
She has garnered more than 2.8 million followers and a whopping 19,000 subscribers based on Twitchtracker. Despite her massive success in the platform, Twitch has not allowed advertisements on her stream and is indefinitely suspended from running ads.
Amouranth has taken to her Twitter to call out Twitch indefinitely suspending her without prior notice or any warnings.
She goes on to say that Twitch has no "communicated guideline" and has complete discretion to target individual channels they deem "not advertiser friendly".
Amouranth has been widely criticized in the past few months and also been satirized by fellow streamers for her hot tub streams. Other hot tub streams have also called each other out for "copying" ideas.
However, Twitch's guidelines that swimwear is permitted as long as certain guidelines are followed.
Swim and beaches, concerts and festivals
Swimwear is permitted as long as it completely covers the genitals, and those who present as women must also cover their nipples. Full coverage of buttocks is not required, but camera focus around them is still subject to our sexually suggestive content policy. Coverage must be fully opaque, even when wet. Sheer or partially see-through swimwear or other clothing does not constitute coverage.

Twitch Community Guidelines
This allows hot tub streamers to stream this type of content.
As of now, Amouranth is still able to stream and still has income from her subs and donations.