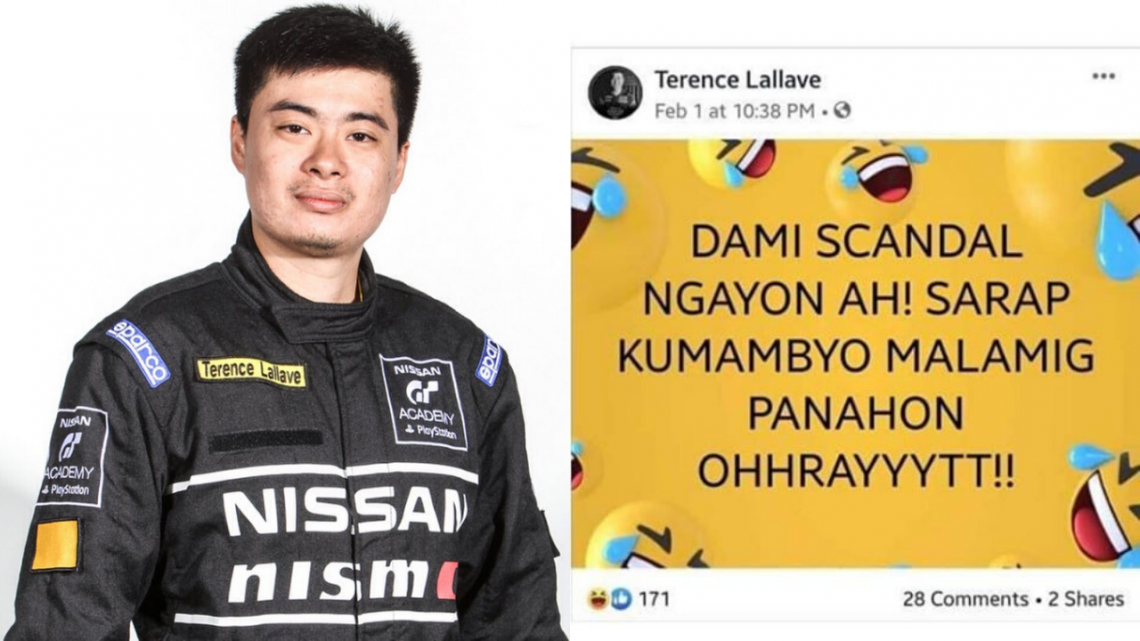 Terence "Chupapi" Lallave removed from AMPLFY, Tier One Entertainment criticized
February 4, 2020
The industry was in shock when Terence Lallave was hastily removed from AMPLFY, the talent agency of Tier One Entertainment.
Terence Lallave was one of the top draws of AMPLFY. Terence was known for his "foul mouthed" personality which the fans loved. However, he was recently removed from a post he made. According to one of the screenshots, one of Terence's post was the reason why Tier One had to terminate him.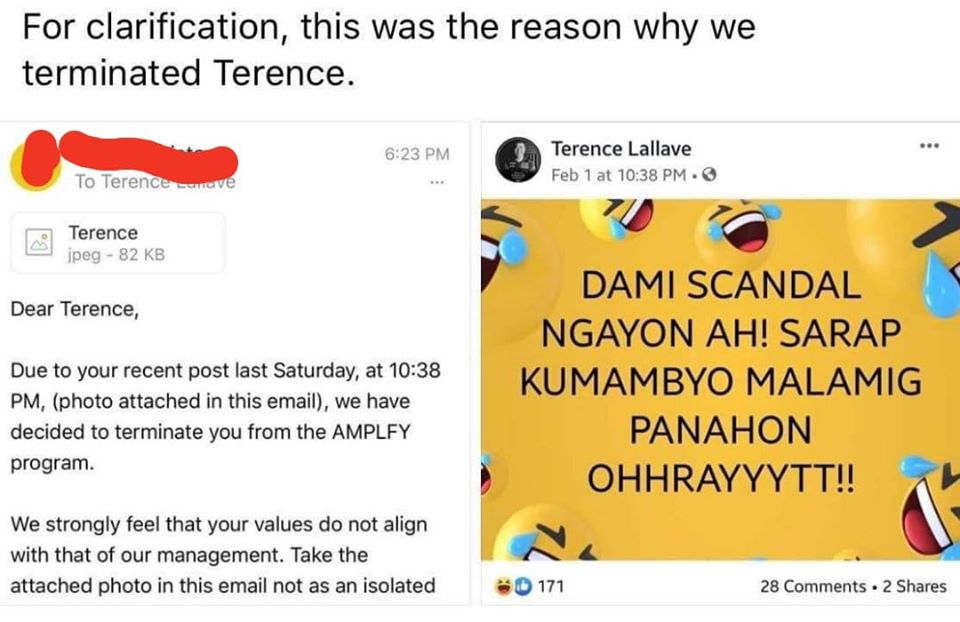 The screenshot was also posted in The One Percent which was the private group of Tier One Entertainment. The said post caused an uproar and discussion regarding Tier One's decision to let go of Terence.
One of the main criticism against Tier One was its hasty decision to terminate Terence instead of solving it internally.
Terence has then responded to the allegations against him. He has also stated that his comments were also being removed.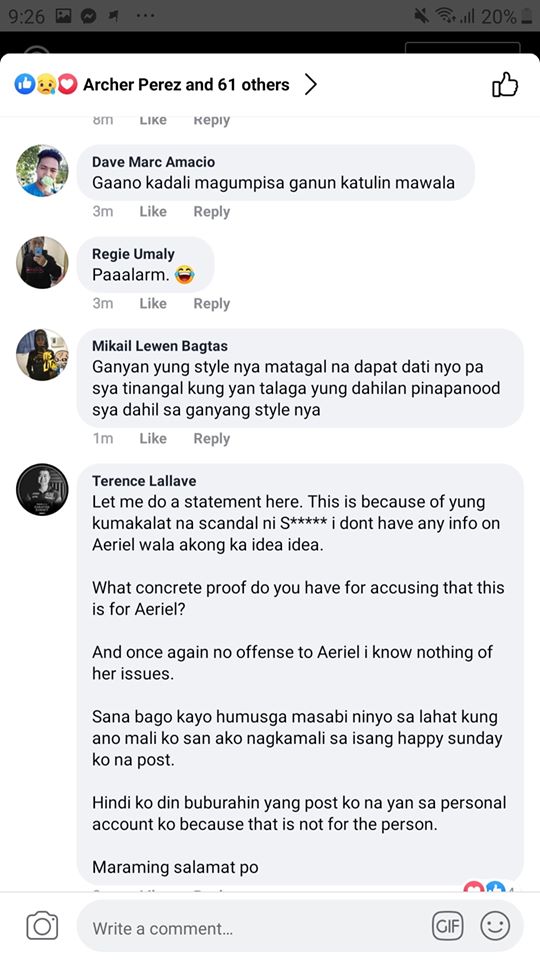 He also stated that he is not removing his "Happy Sunday Post" which is still up until now.
Terence also went live addressing the current situation.
A comment regarding Tier One's decision to terminate Terence over a social media post.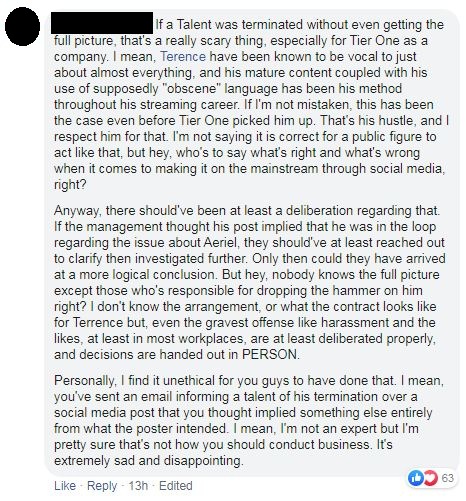 With the amount of criticism from the group, Alodia Gosiengfiao, CCO of Tier One, along with Tryke Gutierrez, CEO of Tier One, had to make a statement.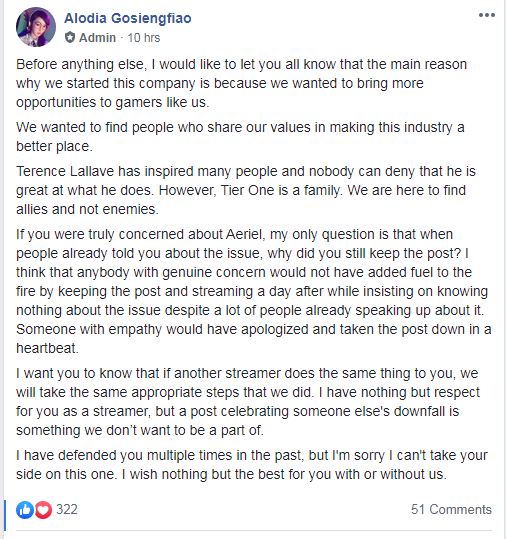 Tryke also commented on Alodia's post adding his own sentiments.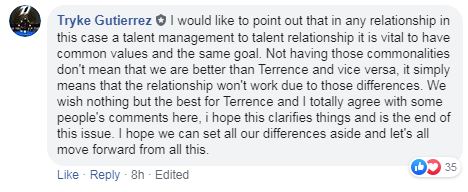 Following Alodia's post, Terence commented and has stated that he respects Tier One's decision and again stated he knew nothing of what happened.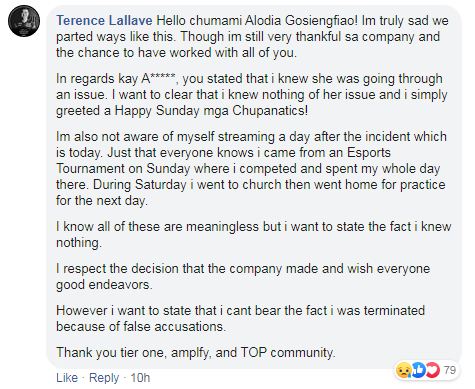 For people worrying if Terence will still stream, he says that he will continue streaming for his fans.
Disclaimer: These are all the information we have gathered. We do not condone any witch hunt of the parties involved or anyone for that matter. Please respect everyone.