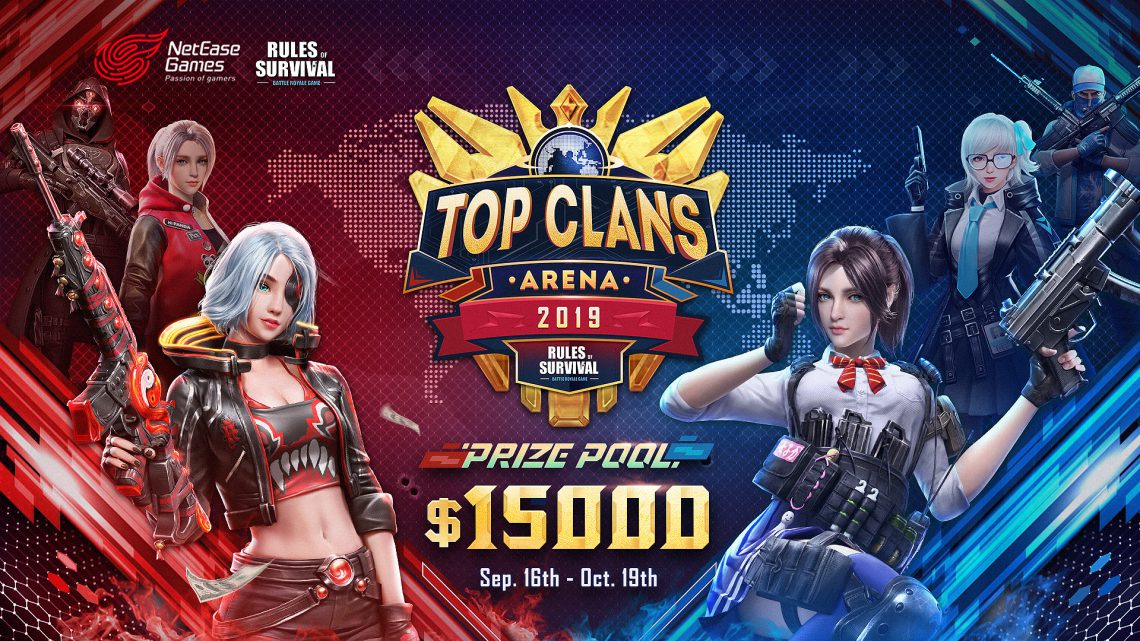 Top Clans Arena 2019 Competitive Schedule
September 28, 2019
Rules of Survival surprised their Philippine community with their recent announcement of a first ever live finale to be hosted there. Top Clans Arena 2019 would be the Philippines' first official, international esports event for Rules of Survival.

They've restructured the competition to further solidify Top Clans as a premiere esports title for RoS PC.

Grand Finale at Le Pavillon, Manila on November 16
Le Pavillon will be seeing another international esports meet this year as NetEase has confirmed that it will be the site of the Grand Finale.

The venue can be found along Metro Bank Avenue in Pasay City. It's near routes going to SM Mall of Asia and World Trade Center if you take Diosdado Macapagal Boulevard.

Faction Wars is Back

With several legs to the tournament, NetEase's Faction War campaign makes it easier for RoS fans to support their squads.

All the participating squads for all legs of the tournament will be divided between a red and blue faction.

Fans can vote in a soon-to-be-released Top Clans Arena website to be able to earn exclusive rewards.

Vietnam and Philippines Get Straight to Finale Slots

The two countries will each have two representatives that will go straight to the Grand Finale. This means they do not need to go through any qualifier to fight for the 15,000 USD prize pool.

NetEase has stated they will be revealing who these VIP Clans are next week.

Invitational
Similar to last season, there will also be a shortlist of squads from different parts of SEA that will have their own qualifier for the finale.

Only the most influential and active clans can make it to the list. A total of 30 squads will be fighting for 6 slots for the grand finale from October 25 to 26.

October 27 will have a Faction Clash showmatch.

Ranked Qualifiers
For everyone else, they will be required to grind for ranked points towards a chance at the finale.

Squads may register from October 9 to 18 inside the game itself under the Contest menu. These squads will have October 19 to 24 to be the top 40 ranked squads in the whole SEA.

These squads will be divided into the Red and Blue faction and advance to the Qualifier Playoff on November 1 to 3.

Only 5 from each faction will get a ticket to the Grand Finale.

We're still waiting for a few details to be revealed: the point system, the VIP clans and casual side-events for the finale itself. Be sure to follow the Rules of Survival-Channel FB page for quick updates and more events.