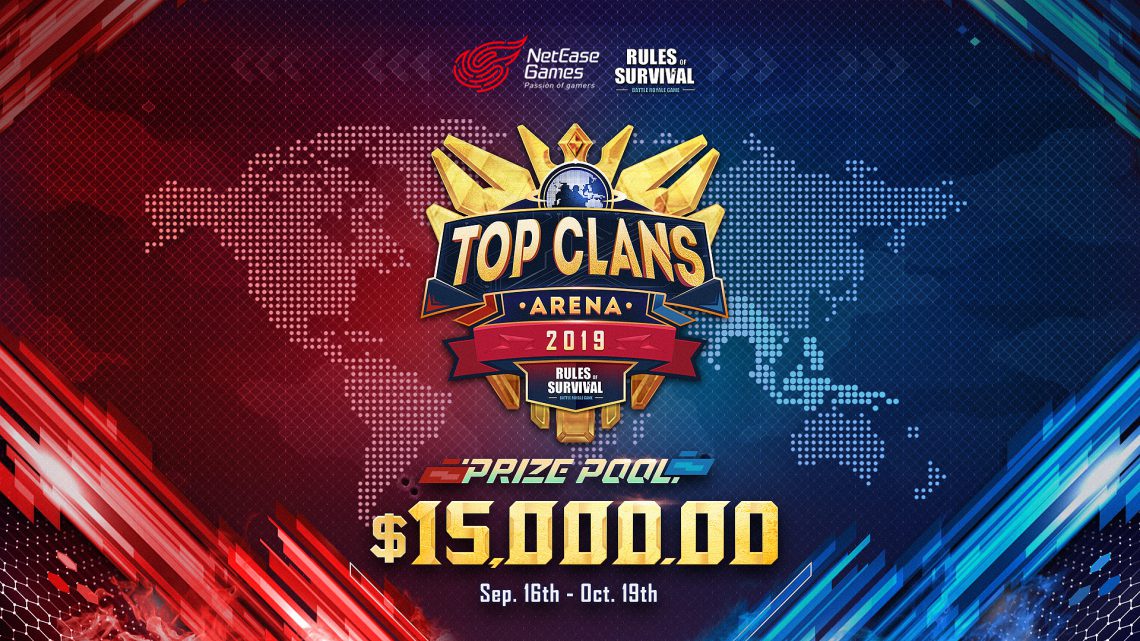 VIP Clans Revealed; Registration Opens for Top Clans Arena 2019
October 15, 2019
The four VIP clans with a straight to finale ticket for the Top Clans Arena 2019 has been revealed last week. Philippines and Vietnam both got two invites each based on the regions' competitive record.

A balance of clans and professional esports teams were given these invites.

Clans Wheat Town Gang from the Philippines and Don't Back Down from Vietnam are staples in the RoS competitive scene.

The former is one of the biggest clans in the country with multiple members earning top ranks in competitions. The latter is the champion of the recently concluded Rules of Survival Championship Series Season 2.

Professional teams, Bren Esports from the Philippines and Refund Gaming from Vietnam were also given invites.

Bren opened the biggest esports training facility in SEA just recently which is perfect when they signed players of NRX Gaming, the 2019 TNC Cup Rules of Survival Champions, for their Top Clans entry.

Refund surprised everyone when their participation was announced. This will be their first venture into Rules of Survival. They are most well-known for their success in PUBG and CS:GO in SEA.

With this line-up, this will actually be the first time professional esports organizations will be joining the tournament title. Top Clans was just launched in January of this year.

No Invite, No Problem

Staying true to their roots. They're also opening opportunities for up and coming players and clans to earn their finale slot.

Players may now register for Top Clans Arena 2019 inside the game itself.

The Contest Menu will be active from October 9 to October 18, 11;59 PM for all those interested to participate in the Ranked Qualifiers for TCA.

Only registered squads will be monitored for their ranked points from October 19 to 24. The top 40 clans who registered will be invited to the Qualifier Playoffs on November 1 to 3.

The finale will be hosted in the Philippines at the Le Pavillon, Manila on November 16.

You can check the rules and points system in the Rules section of the official Top Clans Arena 2019 landing page. Get the news first by following the Rules of Survival-Channel FB page.