Donald Trump follows Sanders in Making a Twitch Account – an Amazon-owned Platform
October 14, 2019
Who's gonna be next?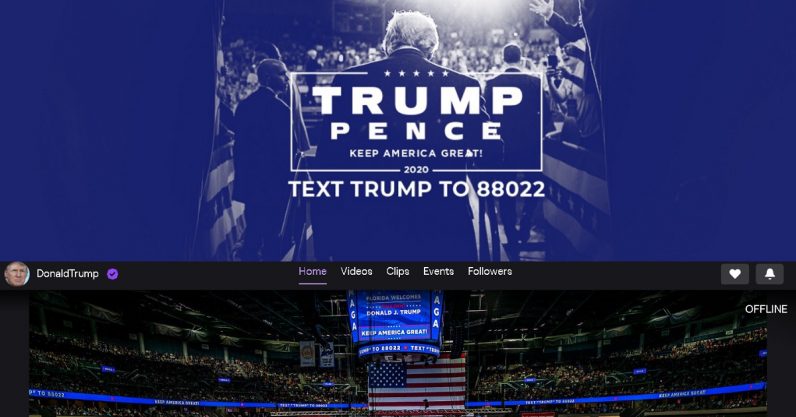 Trump Makes A Twitch Account
Despite the beef that happened a year ago between United States of America President, Donald Trump, and Amazon, he sets his foot on Twitch – Amazon-owned streaming platform as he set his recent rally live on the said platform under the username DonaldTrump.
As of this writing, the President's account has a total of 54.6k followers and his first video viewed by 54,223 twitch accounts.
Just like Bernie Sanders, who first reached out to his supporters on Twitch 2 months ago, Trump aims to do the same.
Twitch's Unfair System
Despite the fact that the platform has a lot of patrons, there were a lot of Donald Trump's viewers during his Minnesota rally who are upset after the said livestream. The chat is full of "IMPEACH" messages along with some presumably spam messages from video game streamers communities.
As the livestream continued, more racist remarks were made by the president which made the crowd – yes, the ones watching him live – along with the ones streaming online shout and message 'boos'.
A lot of viewers react to Twitch verifying the president's account instead of banning it just like what the platform does to streamers who allegedly 'failed to comply with their rules' like:
"If Twitch doesn't ban him (and let's be honest, they're cowards and they wont) for hate speech, they will lose whatever tiny little shreds of credibility they have left.
Woman shows a hint of skin for half a second? "BANNED!"
Man incites violence toward anyone that is not a conservative white man? "Hum, what an interesting perspective!"
What's a good alternative to twitch? Can we all just go there? "

Ingolfr
"It's only a matter of time before Microsoft gets an exclusive deal with Trump to stream on Mixer. /s

But on a more honest note, Trump will fit right in on Twitch. The community can be utterly awful on that website. But hey, maybe Twitch will ban him… Right? Right…"

CHRONICPeace
Anyhow, he just uploaded his first livestream. Maybe he'll do better on the next ones? What do you think about politicians following Bernie in reaching for the people through Twitch?
Latest posts by Alecsanndra Gonzales
(see all)