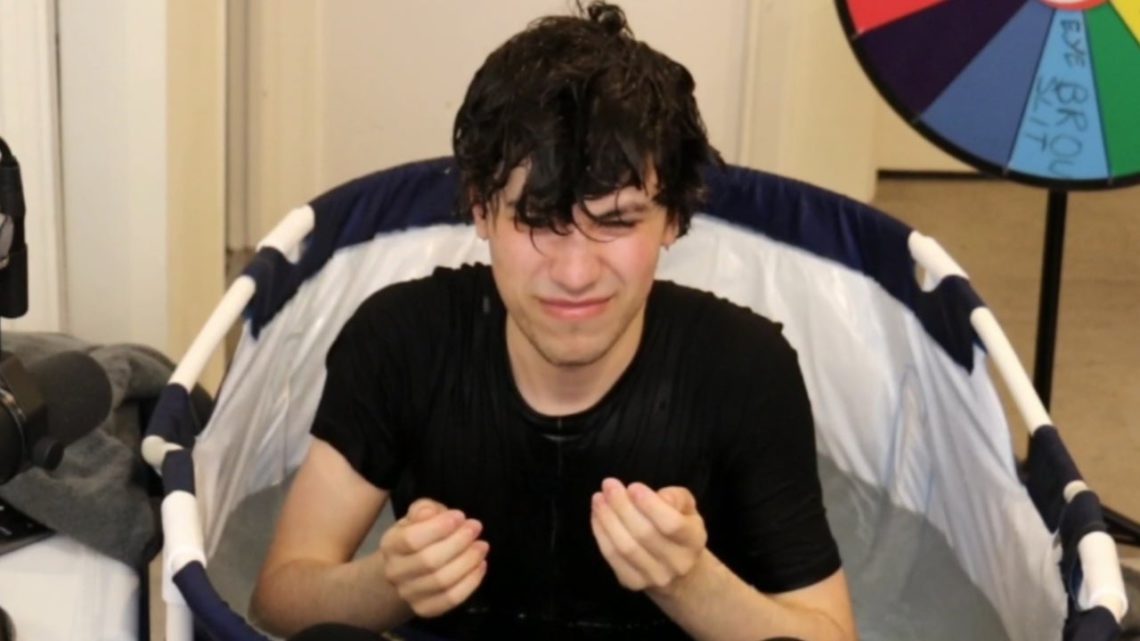 GeorgeNotFound's Hot Tub Stream Breaks Pokimane's Twitch Record
June 3, 2021
Minecraft youtuber and Twitch Streamer GeorgeNotFound hosted a Hot Tub stream to the surprise of many viewers and streamers.
GeorgeNotFound's Hot Tub stream racked in 350,000 viewers, which was more than Pokimane and OfflineTV's Hot tub stream of 100,000 viewers.
With Twitch officially acknowledging the "Hot Tub Meta" and officially canonizing it as an official streaming category, the said controversial streaming meta is here to stay. One such streamer from the Minecraft community decided to challenge the meta by hosting a hot tub stream himself, while using the meta to make a major announcement.
On June 2, 2021, Minecraft youtuber and Twitch Streamer GeorgeNotFound announced on Twitter that he will be hosting his own hot tub stream, much to the surprise of many viewers and other streamers. George's tweet quickly received more than 85,000 likes and goaded viewers into hopping to his Twitch Channel in order to see if he was actually serious with it. GeorgeNotFound managed to rake in 350,000 viewers beating Pokimane's and OfflineTV's 100,000 Hot Tub Twitch record.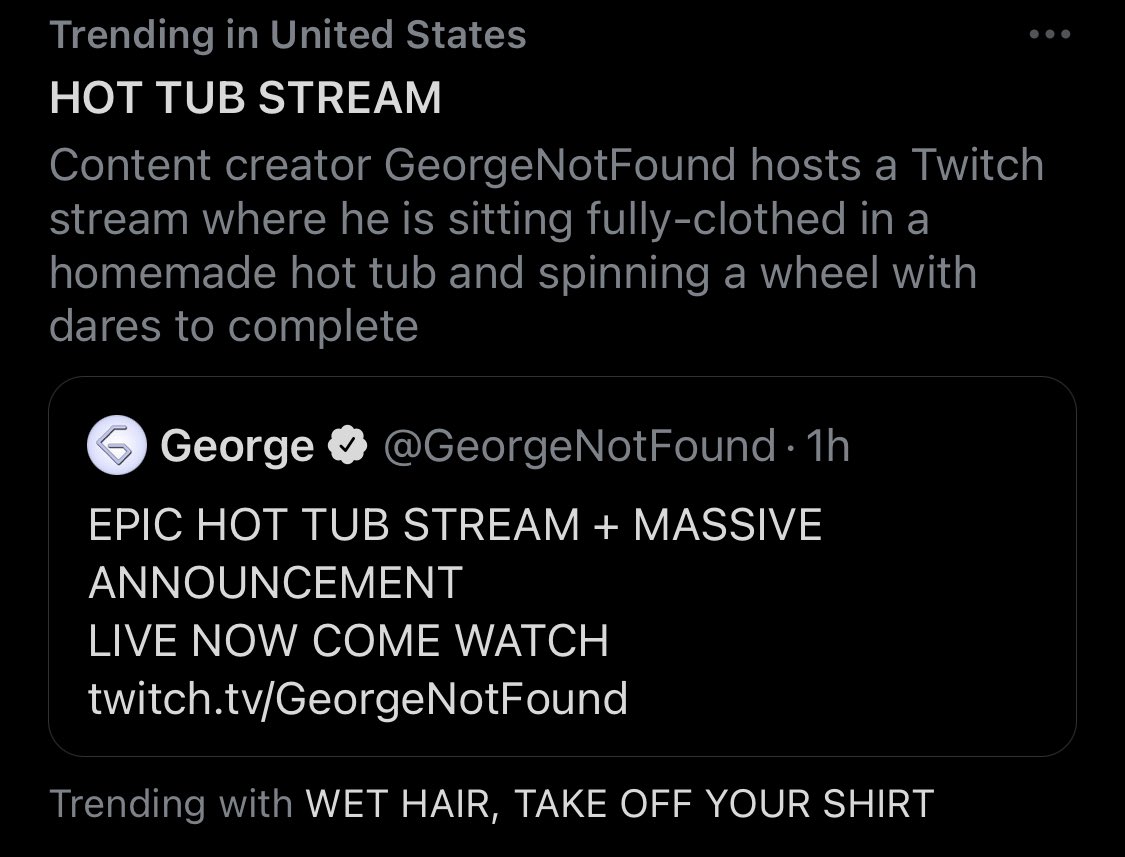 GeorgeNotFound would be streaming his Hot Tub stunt a few hours later, much to the shock and delight of many viewers. Surprisingly, he only categorized his stream under "Just Chatting" instead of the new official "Pools, Hot Tubs, and Beaches" category.
GeorgeNotFound's "Hot Tub" Stream
George's stream started awkwardly as a hole in his tub leaked out water and into his house. Despite the setback, he continued with his stunt and proceeded to go in his hot tub, although with clothes on.
Throughout the short broadcast of 1:43:10 hours, George would be doing several humiliating tasks on himself courtesy of a spinning wheel which chose what stunt he should do to himself. Some of these tasks included "Change into a new outfit", which made fun of female streamers who would change their swimsuits often during such streams. Other categories in his wheel included drinking water in the tub, wetting his hair, making a prank phone call, and of course making his major announcement.
Here are clips of some of George's Antics caught on stream, captured by various Youtube users.
After minutes of crazy and humiliating tasks, his wheel finally landed on the "Major Announcement" Category which was him simply announcing his new Merch Store, which was probably the primary reason why he did the Hot Tub stream to begin with.
Even after his official major announcement, he continued with his hot tub stream, doing more and more humiliating tasks such as pouring four cans of Coke in to his tub, as well as cracking an egg and spilling its yolk on his head.
George's "Hot tub" stream only lasted for more than an hour, which was short by many hot tub streaming standards, but his entertaining antics made it possible as a fun and entertaining watch for his current and future fans. His stream raked in more than 350,000 viewers, which was more than Pokimane and OfflineTV's previously record breaking Hot Tub stream.