Wil Dasovich and Alodia Gosiengfiao addresses their TikTok controversy
April 17, 2020
Wil Dasovich and Alodia Gosiengfiao made a version of their "My Heart Went Ooops" TikTok video with a Twist.
People on social media started criticizing the video since it went trending on Twitter.
They accused of Wil Dasovich controlling Alodia and what she wears.
They both made a response video addressing the controversy on Wil's other channel, Wil Dasovich Vlogs.
They said that Wil wasn't controlling Alodia and it was mostly a misunderstanding. That the video was taken out of context and others decided to add their own meaning to it.
Alodia has this to say: "I would understand if talagang nagkamali but hindi eh. It's like words were put into our mouths."
Both Wil Dasovich and Alodia Gosiengfiao has been criticized online for their TikTok video which is a parody of the "My heart Went Oops" meme.
The "My Heart Went Oops" meme is a video trend that started on TikTok where the girl starts out looking mediocre at the beginning and transforms into a beautiful, usually a voluptuous, version of herself. Usually the girl starts out fully clothed and ends up wearing revealing clothes.
As influencers, Alodia and Wil joined in on the trend and made their own version. The only difference is that their video is has a 'twist' at the end. Instead of Alodia revealing more skin, she ends up being more covered with Wil, half naked, telling the people no with his fingers.
This has sparked a debate and controversy on social media. "Alodia" also became trending on Twitter.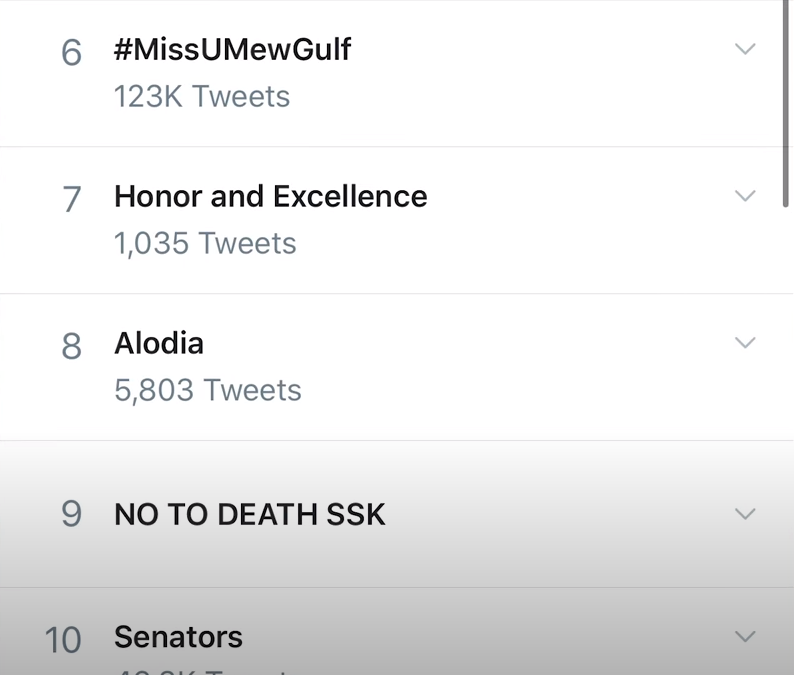 As it got more trending on Twitter, more and more criticism was tweeted about the video.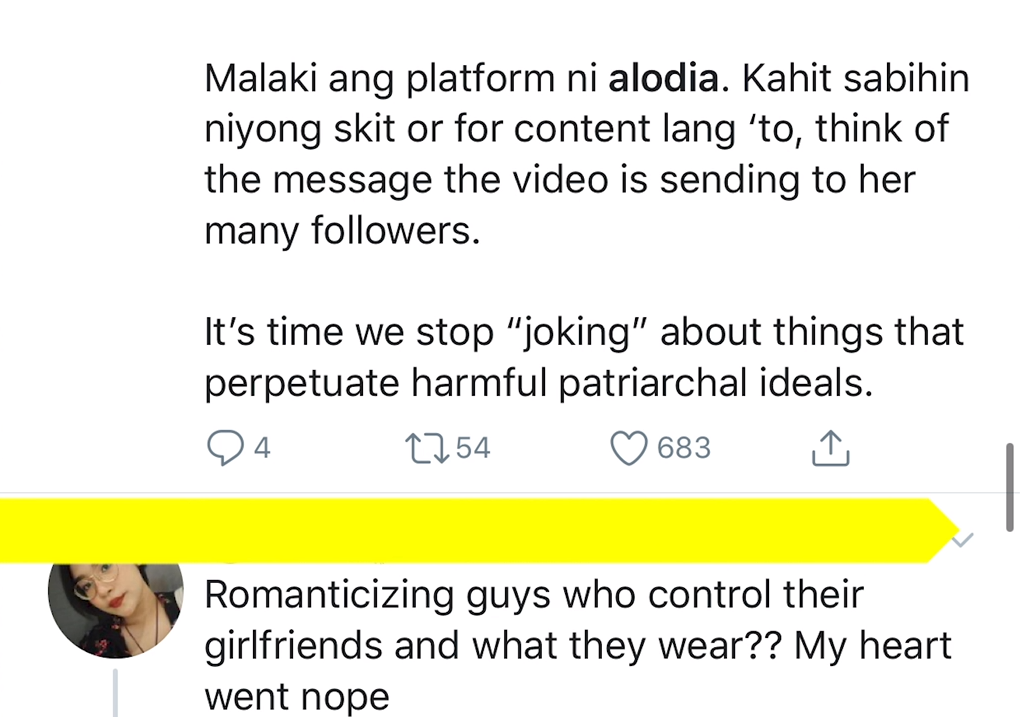 As the controversy online became more apparent, Wil and Alodia had to address the issue. Both their TikTok video and their response video were posted on the same day.
The two made a response video on Wil's other channel, Wil Dasovich Vlogs where they both discussed the "My Heart Went Oops" meme, the criticism towards their video and their response to it.
Wil has stated that they have posted the video across all platforms and it did not have any negative comment.
"We posted at TikTok, Facebook, Instagram and wala man lang isang negative comment lang. hundreds of thousands of views, maybe a million across all of those. Nothing negative. On Twitter, Twitter alone it's got more than a million views. Less than a day. 2 million views for all the wrong reasons."
He goes on to say that context is important.
"Everything should never be taken out of context. I think yan ang first importante sa lahat. The context of whatever's being posted."
He then addresses the accusations of him controlling Alodia.
"The idea that we're romanticizing men who dictate what women should wear, the meme is of the girl undressing. She's baiting the guy. The joke is not about me controlling what she wears. The joke is that you're not gonna see this today."
Wil was also criticized by the fact that he was shirtless.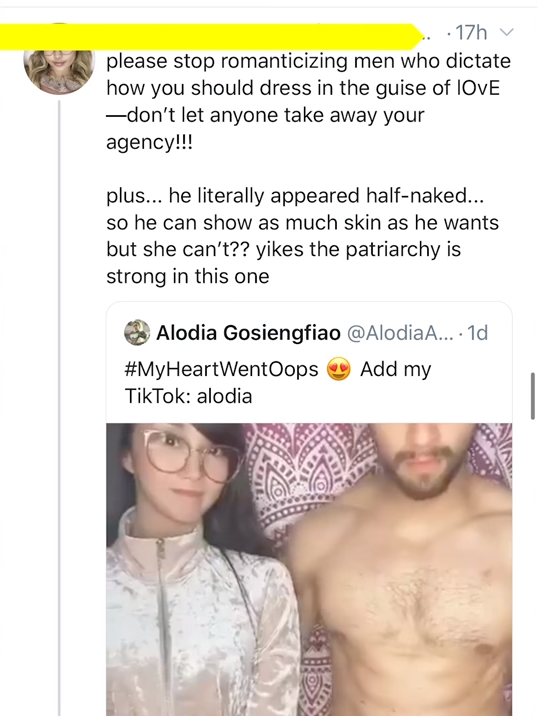 He addresses this by saying that:
It's part of the joke.
It's always hot at their place.
"For one, for people following me, I'm always shirtless kasi napakainit dito sa bahay na to. Two, that's the whole joke is they're waiting for her to be – to see her skin but i'm the one who's shirtless so it's like oops! Haha got you! And she can wear whatever she wants."
He also wonders as to why the reaction of the people in Twitter were different saying, "It's just so interesting to me. Bakit ganito sa Twitter?"
Towards the end of the video, Wil concluded that it was merely for entertainment and that the video was taken out of context. They also stated that others may have over analyzed the video and have added their own meaning to it. Alodia has this to say regarding this, "I would understand if talagang nagkamali but hindi eh. It's like words were put into our mouths."