Kotaku UK Apologizes For Claiming that Lyrics from a Song in Persona 5 Used a Disability Slur
April 20, 2019
DISCLAIMER: This article is not meant as an attack towards Kotaku UK and the people who work there.
On April 18, 2019, Kotaku UK published an article written by Laura Kate Dale, claiming that a song from Persona 5 contains a "disability slur". They claimed that the latest DLC for Super Smash Bros Ultimate and its Persona 5 related DLC has a song from the game that says the word "retarded" which is considered a derogatory slur for mentally disabled people.
In the track 'Wake Up, Get Up, Get Out There', if you skip to around 1:48 into the track, you'll reach a section of the song where words are softly spoken rather than sung. At around 1:57 it appears the term "retarded" is used, and followed up by the assertion that "I can say it."

Kotaku UK's Article regarding the Persona 5 related DLC
Oh Ah Hi
Are you ready?
Ready to pick up the pieces
Let's go, let's play, retarded
I can say it
Are you ready?
Uh Huh

the lyrics in question
Community reactions and blacklash
After Kotaku UK has published their article, community reactions were unfavourable towards the article mainly since many fans quickly pointed out that the lyrics from the song did not say "retarded" but more of either "record it" or "retort it". The source of these negative reactions come from the fact that Kotaku UK has allowed such claims to be published without doing further research about the song such as those involved with it like Atlus, songwriter Benjamin Franklin and the singer herself Lyn Inaizumi.
Fans quickly pointed out that singer Lyn Inaizumi is not a native English speaker so that her pronunciation of the words in question was not clear to the article's writer nor Kotaku UK themselves.

Some persons involved with the production of Persona 5, in particular two voice actresses have shared their thoughts on the situation with Kotaku UK.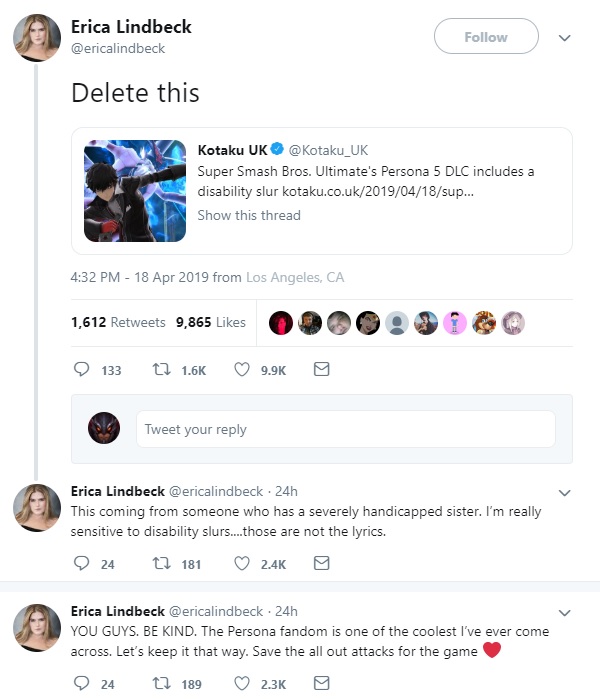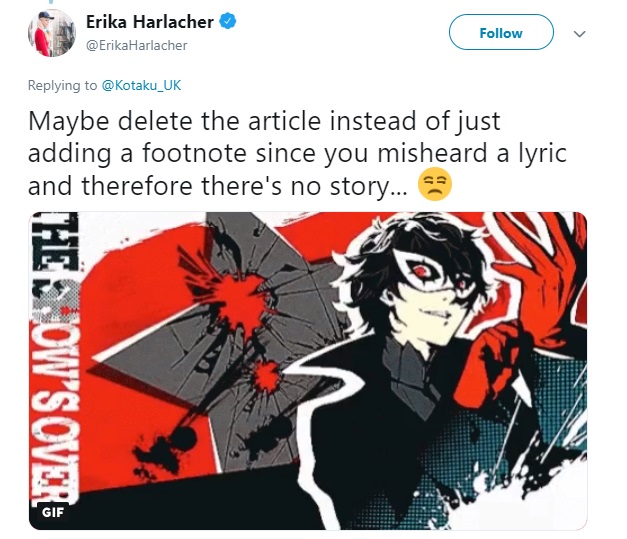 Kotaku UK's update
On April 19, a day after their article's publication, and after the firestorm of comments and reactions, Kotaku UK's editor Rich Stanton released a news update where they stated that "they screwed up with that Persona lyric", admitting to a fault that they quickly published that article without any response from Nintendo or Atlus regarding the song lyrics.
We contacted Atlus and Nintendo for comment before publication. But we published the article before a response was received and, as the subsequent fallout has shown, that was a mistake. I'm the editor of the site and, ultimately, that means this error was down to me and me alone.

Rich Staton's statement admitting their publication was a mistake
Many of you have suggested alternative readings for the lyric, from 'retort it' to 'ritardendo' to 'retard it' (with 'retard' in this context being a technical musical term).


We asked Nintendo both for an official transcription of the lyric, and for an explanation as to why this section of the song is omitted from the official lyric transcription. We've now received the following reply:
We checked with Atlus who confirmed that the actual lyrics of the song do not include the word "retarded".


Frustratingly, this does not clear up the confusion over what the singer is actually saying.


But we accept that this article was a mistake. Publish in haste, as they say, and repent at leisure. We would like to apologise to Atlus, Nintendo, and the many Persona fans who were angry about this piece. It looks like we got it wrong. We screwed up: sorry.
In Kotaku UK's apology, they also stated the following regarding if the original article should be deleted due to community demand and backlash. Rich Stanton states in their apology:
Kotaku UK does not delete articles. On the internet, what would be the point anyway? We admit our mistakes, own them, and update the original to reflect new information. The original article has now been updated but, as we say, it may take a while before it shows.

We hold our hands up with this one: you deserve better, and we'll strive to do better
Laura Kate Dale, the writer of the original article has released statements over twitter regarding the aftermath of the situation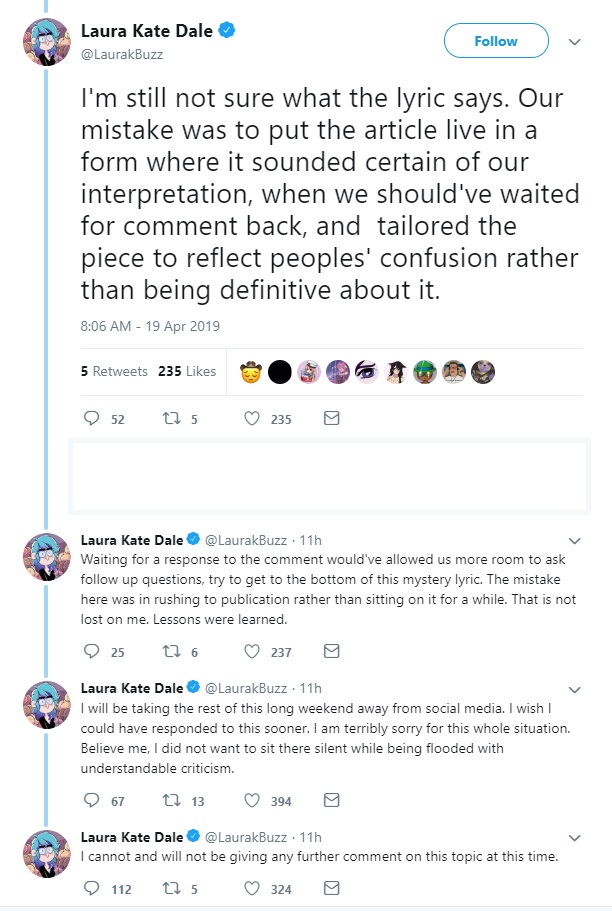 References