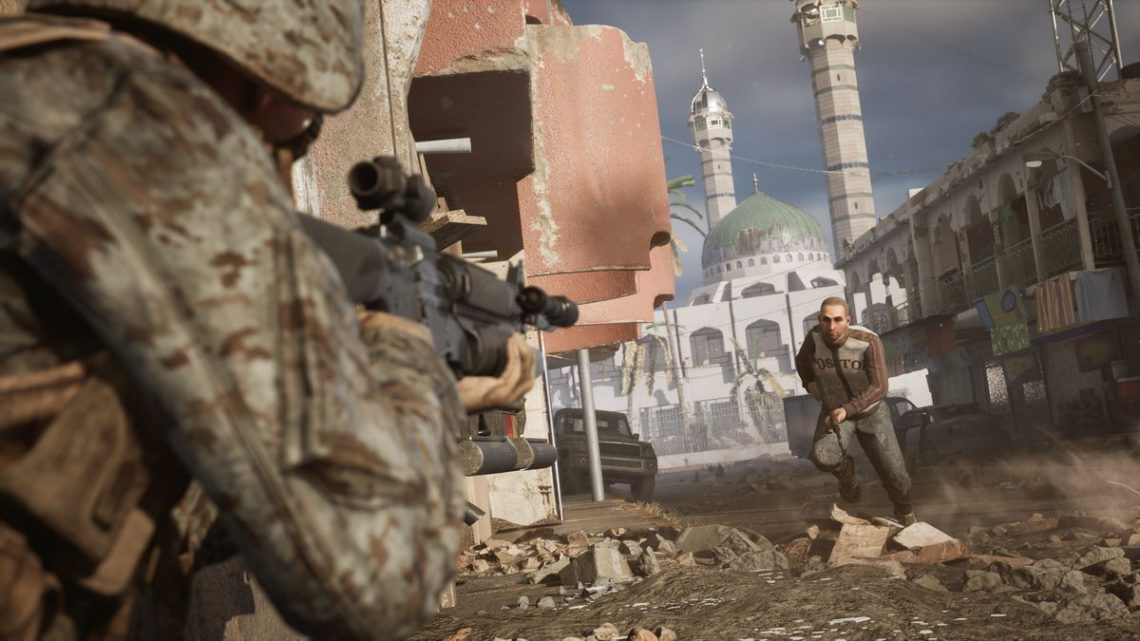 Muslim Civil Rights and Advocacy Group Want Shooter Game to be Banned
April 9, 2021
Six Days in Fallujah is an upcoming tactical First person shooter game set in Iraq, during the Iraq War of 2003, in particular the Second Battle of Fallujah.
Six Days in Fallujah was originally a cancelled game due to its controversial nature.
Muslim Civil Rights and Advocacy Group – The Council on American-Islamic Relations (CAIR) wants the game to be deplatformed.
Six Days in Fallujah is an upcoming tactical first person shooter that is developed by Highwire Games and published by Victura. Set in the turbulent Iraqi-American War of 2003, Six Days is described by its developers Highwire Games as the first video game to focus on the Iraqi-American War, in particular the Second Battle of Fallujah, often cited as the bloodiest battle in the Iraqi-American War notable for its high amount of civilian causalities. The game is set to have a late 2021 release date.
Background of Six Days in Fallujah
Six Days in Fallujah originally was set to have a 2010 release, with Atomic Games as the original developers and Konami being its original Publisher. Atomic Games have worked with US Marines, Iraqi civilians, war historians, military officials, and even Iraqi insurgents via interviewers in order to learn about the psychology of the battle.
However, due to the game's highly controversial subject matter, Konami declared it would not be associated with it after Konami and Atomic Games gained widespread criticism coming from war historians, anti-war advocacy groups, and war veterans for allowing such a game to potentially exist. Six Days in Fallujah would then be cancelled, being put on hold by Atomic Games after said studio went bankrupt in 2011.

In February 2021, Six Days in Fallujah was announced to be under development again, this time from studio Highwire Games, which consists of former Halo and Destiny developers, and Victuria, a company founded by Peter Tamte, who originally formed Atomic Games.
Current Controversy – CAIR versus Six Days in Fallujah
Public traction of Six Days in Fallujah have sparked action coming from Muslim civil rights advocacy group the Council on American-Islamic Relations (CAIR), declaring that the game is an "Arab Murder Simulator" and such video game will only normalize and encourage violence, discrimination, and racism against Muslims in America and in the rest of the world. CAIR has called out distributors Valve, Sony, and Microsoft to deplatform the game, although said game has not yet been released.
"We call on Microsoft, Sony and Valve to ban their platforms from hosting Six Days in Fallujah, an Arab murder simulator that will only normalize violence against Muslims in America and around the world

The gaming industry must stop dehumanizing Muslims. Video games like Six Days in Fallujah only serve to glorify violence that took the lives of hundreds of Iraqi civilians, justify the Iraq war, and reinforce anti-Muslim sentiment at a time when anti-Muslim bigotry continues to threaten human life.

CAIR Research and Advocacy Coordinator, Huzaifa Shahbaz said in a statement
Based on CAIR's statements denouncing the game, their intention is to raise public awareness regarding the Iraq War and how it should not be glorified, as well as the intentions of reducing and eliminating hate and phobia against Muslims in general.
Aside from CAIR calling for Six Days in Fallujah's deplatforming, opinions regarding Six Days of Fallujah have varied, with many individuals calling out the game as a glorification of America's War Crimes against Iraq, while others have stated that it would be a fitting tribute to the lives of the American soldiers who have sacrificed their lives during the conflict.

Comments from people in online platforms in youtube have also varied:
As stated before, Six Days in Fallujah has a late 2021 release date schedule. However, said schedule or even the state of the game's release itself may change due to public opinion's potential to get the game cancelled for the 2nd time.